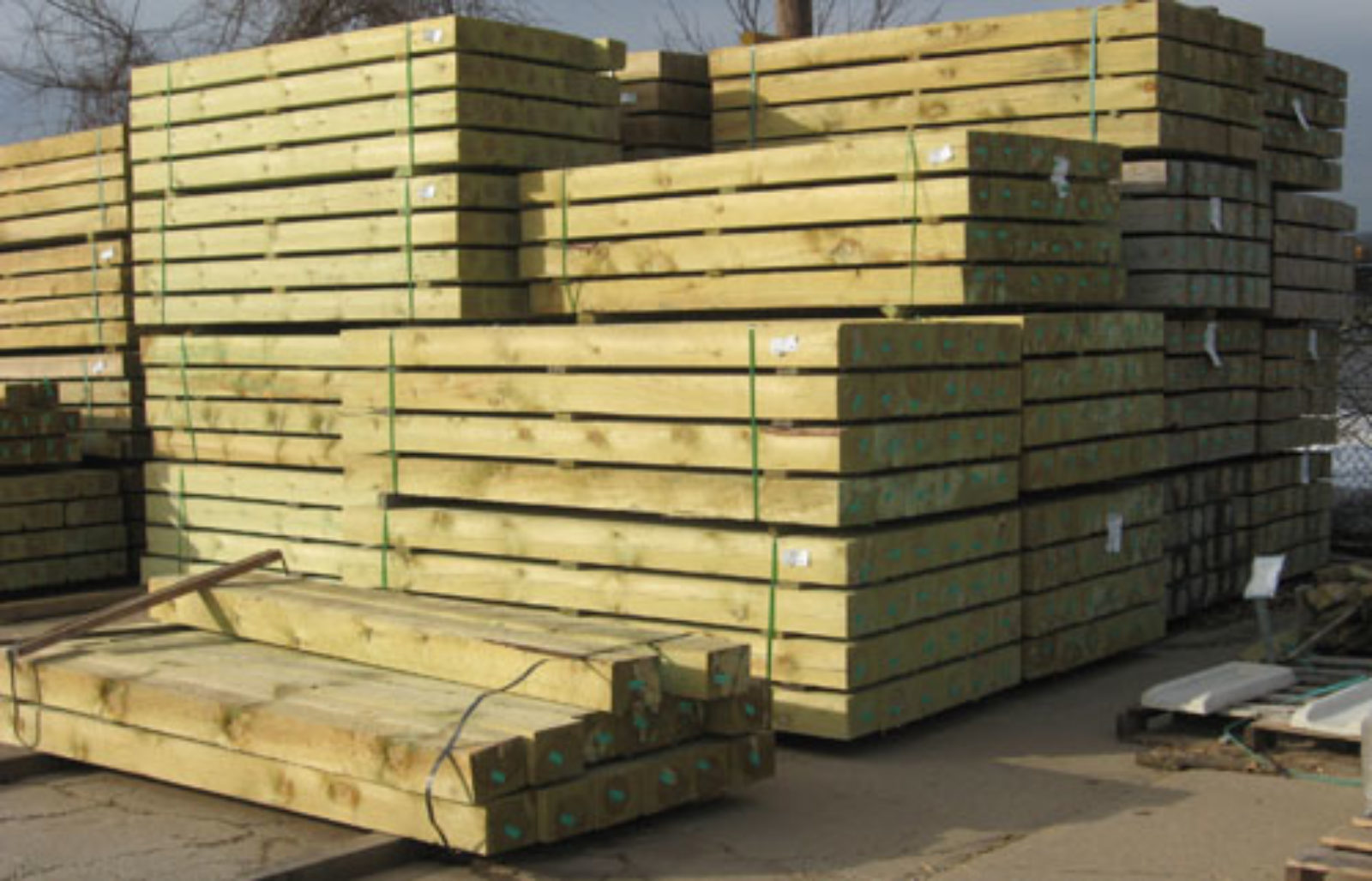 These landscape timbers, available at our Kalamazoo location, are red pine, rough sawn, and are treated with .16 MCA - Micronized Copper Azole. They have a lifetime limited warranty for ground contact. They're a high quality lumber with a traditional rough finish, which are great when used for retaining walls, driveway borders and other landscape construction applications. 
Rough Sawn Timber Sizes
6" x 8" x 8' Ground Contact - Red Pine - 24 per bundle actual measurements 5½" x 7 ½" x 8' 
6" x 6" x 8' Ground Contact - Red Pine - 32 per bundle actual measurements 5 ½" x 5 ½" x 8'
5" x 5" x 8' Ground Contact - Red Pine - 36 per bundle actual measurements 5" x 5" x 8'
When shopping for timbers be sure to find out what kind of wood they are made from. SPF which stands for spruce / pine/ fir wood are less expensive to produce and are much more likely to degrade by warping, drying, and cracking. We use only red pine timbers which are much better quality than SPF timbers. The preservative used in timbers is highly corrosive, so be sure to use stainless steel connectors, heavily galvanized spike, or screws specifically intended for treated wood.  For long term preservation of treated timbers; cuts and bore holes need to be liberally coated with a suitable wood preservative like a Copper Napthenate solution containing minimum 1% metallic copper.
Tips for Wall Construction
Make your first row straight and level.
Stagger each row back 1".
5" x 5" or 6" x 6" timbers are good for most applications.
Use 10" spikes or screws for 6" x 6" or larger timbers.
Use 2 spikes or 4 screws per timber.
Pre-drill spike holes.
Deadman should be 4' long, level into bank.
If the wall butts up against the house, angle deadman away from house (weakest point).
Place a deadman every 4 rows up minimum.
Tack landscape fabric to back of wall if the soil is sandy.
Take a close look at other timber walls.
Landscape Timber Fasteners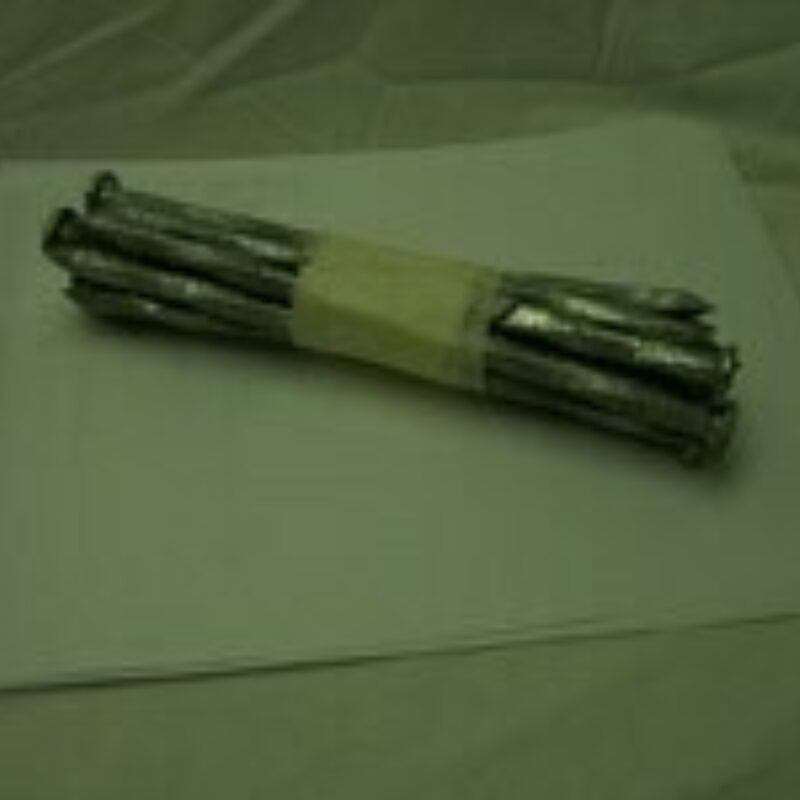 8" Galvanized Spike (Available in 10 packs or box of 325)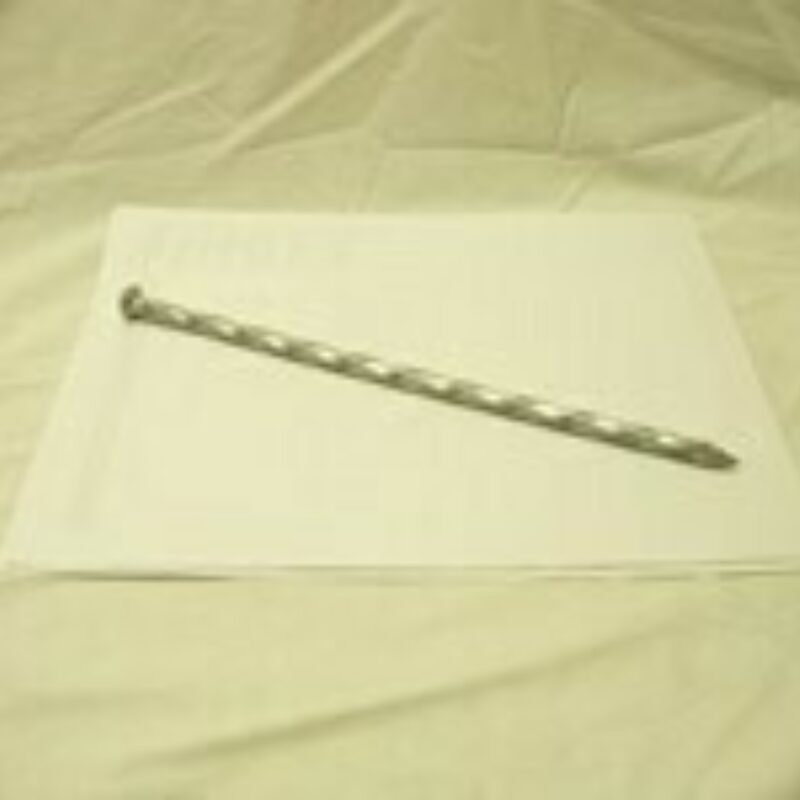 10" Galvanized Spike ( Available in 10 packs or box of 225)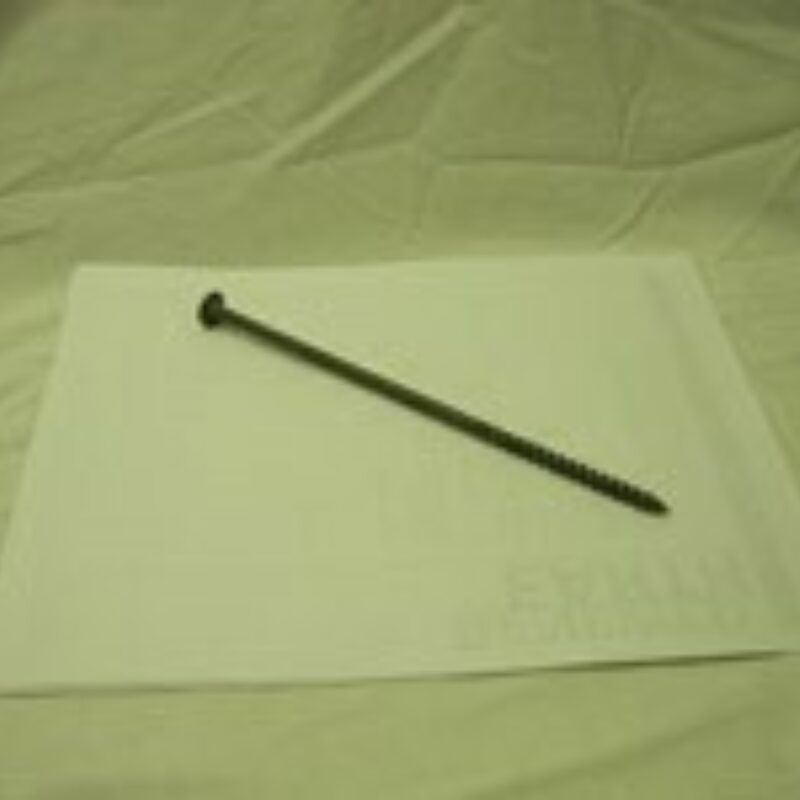 8" Landscape Screw ( Each or in pail of 250)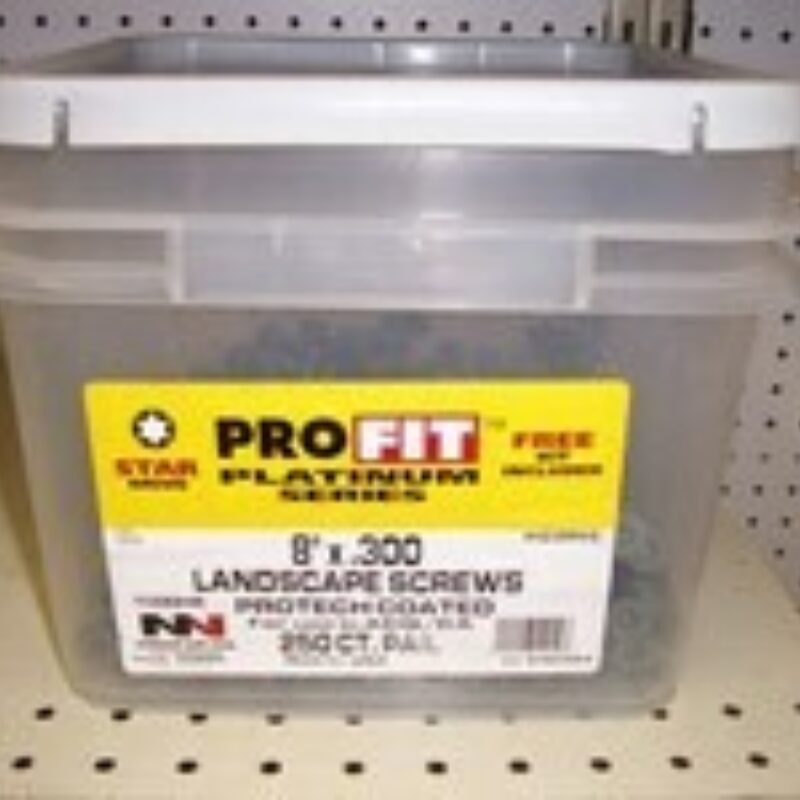 10" Landscape Screw (Each or in pail of 250)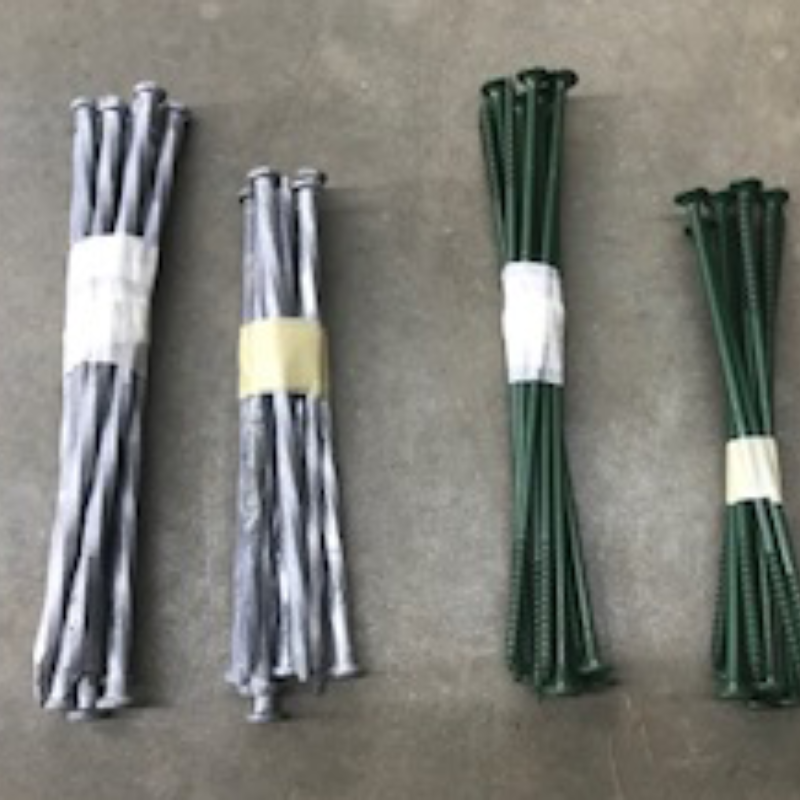 10" Spike, 8" Spike, 10" Screw, 8" Screw
Some Additional Information About Timbers
The current treatment for landscape timbers is MCA or Micronized Copper Azole. The lowest treatment level which is commonly used on cheaper timbers from box stores and other sources is .06. This type of treated lumber is good for above ground use only.  The timbers which we offer are treated to the second tier of treatment which is .16 and are meant for ground contact and carry a lifetime limited warranty.
A treatment level of .16 means that for every cubic foot of wood the timber has soaked in .16 pounds of treatment.
The MCA .06 timber is comparable to the .25 CCA treatment. Similarly the .16 MCA is comparable to the old .40 CCA, and the .24 MCA is comparable to the old .60 CCA. While the treatment pounds per cubic feet has decreased it is not very telling because the treatments substances are so different.
For years the treatment used was CCA this was the one which was voluntarily taken off the market for non-structural purposes by the industry due to the arsenic levels. CCA treated lumber is still manufactured for in-ground structural applications such as poles for a pole barn. When CCA timbers were no longer made the industry mostly went to ACQ then MCQ and now MCA. Today MCA is the standard industry treatment used as the lumber preservative as kind of the second generation post CCA day's treatment.
The four most common types of landscape timber treatment over the past 15 years.
CCA – Chromated Copper Arsenate (still used on structural wood)
ACQ – Alkaline Copper Quartemary
MCQ – Micronized Copper Quartemary
MCA – Micronized Copper Azole (current)